There are people who like creating artworks and they use anything they have to express their what they want in their creations. When they create these arts, they have various reasons and purposes for doing so and an example for this is to decorate their home. They either make decorative items for their own or to sell as a business.
Some people though does not have the skills or talents in creating artworks and they prefer to buy them when they could. But some artistic creations are easier to do and only need the basic items necessary and some imagination just like when making alcohol ink tiles. Making them requires you to basically have alcohol inks, ceramic tiles and spray sealer.
You can add other ingredients depending on your planned project like if you want to create beverage coasters for yourself or as a gift. Remember to acquire tiles which are non porous and shiny, rubbing alcohol, felt, alcohol inks in various colors, paint brushes, glue, black paint and spray sealer. Place something to protect your workplace like wax paper.
You could start making your coaster by spreading rubbing alcohol generously onto a tile and make sure the surface is fully covered. Add droplets of ink to the coated area depending on what colors you planned to place in a particular part. They spread immediately so consider this when placing them so they would remain where you intended them to.
Drop the colors one after the other to get the pattern you want from them by adding the next one immediately after the previous ink have been dropped. There may be some white spots, which are not inked areas, remaining after they have spread. Continue to add small drops in these places to close them up and cover the surface fully.
After covering the whole area then let it dry for at least an hour or even two and make sure it has completely dried out before doing the next step. The following process involves painting the sides of that tile black and give your creation a finished look. Although other solid colors are usable for this procedure but black is the most commonly used among them.
Let the black paint completely dry also and after, turn the tile over and apply glue generously to the whole back side of it. Ensure the grooves have been applied with glue as well and leave no area without glue. This is to ensure that when the felt is attached, it would not be detached easily and remain attached to it.
So have a felt piece cut into the same size as your tile beforehand and you can choose any color for it but use the same one with what you painted on the side for consistency. They would also look better together when you do this. Press the felt well to the back specially between grooves to have it thoroughly attached.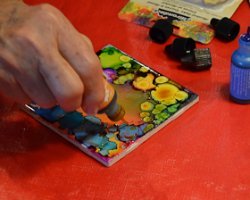 After you let the glued felt dry, lay out your tiles and spray on their top the sealer. This protects them from wear and tear during use. Leave them overnight to completely dry.